News Rewix Mint
The main innovation visible to users introduced with the new version of Rewix Mint is the use of the Java development framework Vaadin. The major new features include:
graphical administration panel (dashboard)
a new menu to group all entries
new CMS functionalities, organizable also in blog mode
New dashboard
The new dashboard is organized in a more functional way.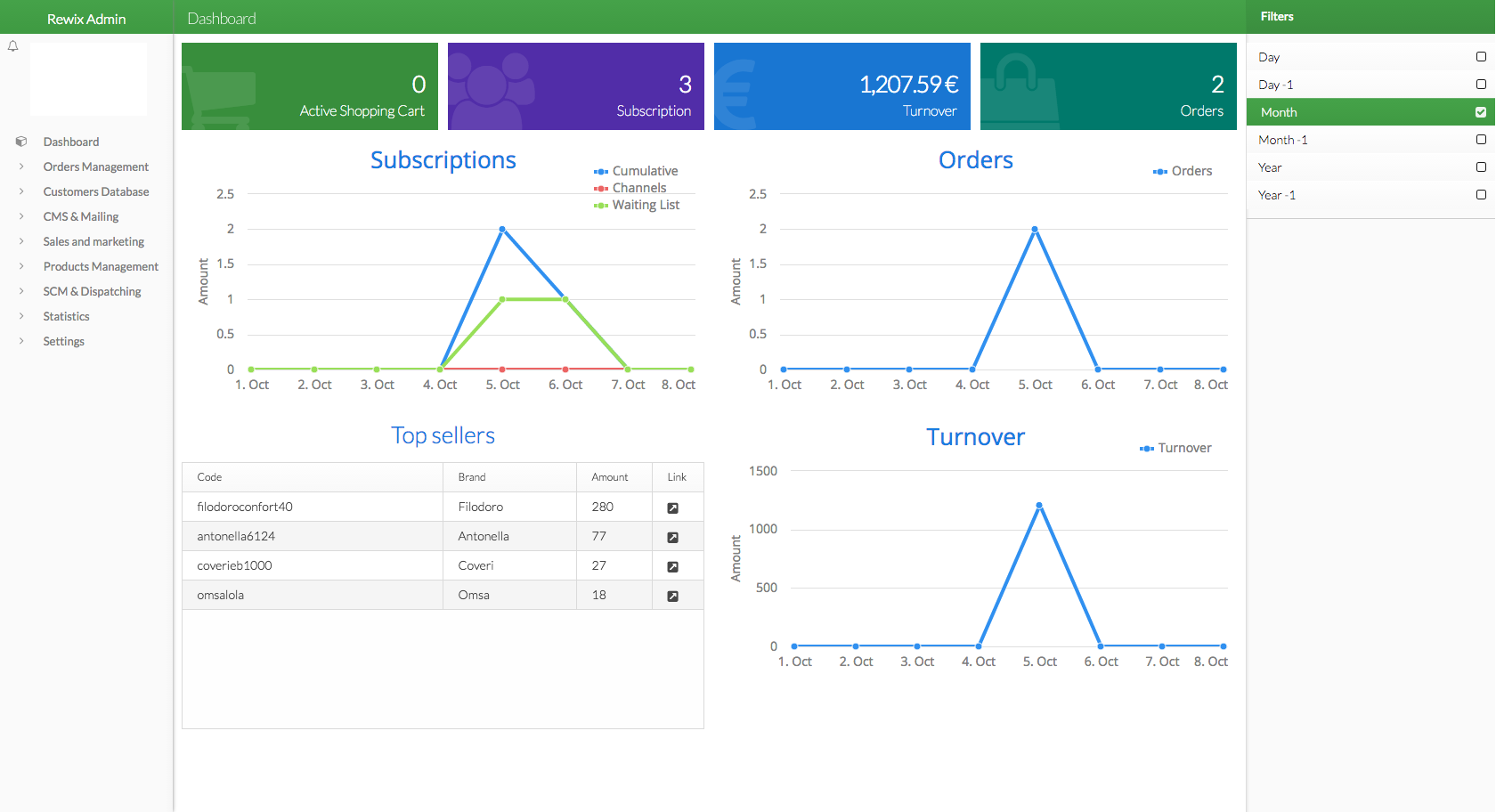 Top: shows at a glance the main business parameters. The parameters monitored are:

Active Shopping Cart: the number of currently active carts
Subscription: the subscriptions number carried within the selected period
Turnover: sales in local currency within the selected period
Orders: the number of orders in the range of time selected
Graphics: it allows to graphically analyze the key sales parameters. The data analyzed are: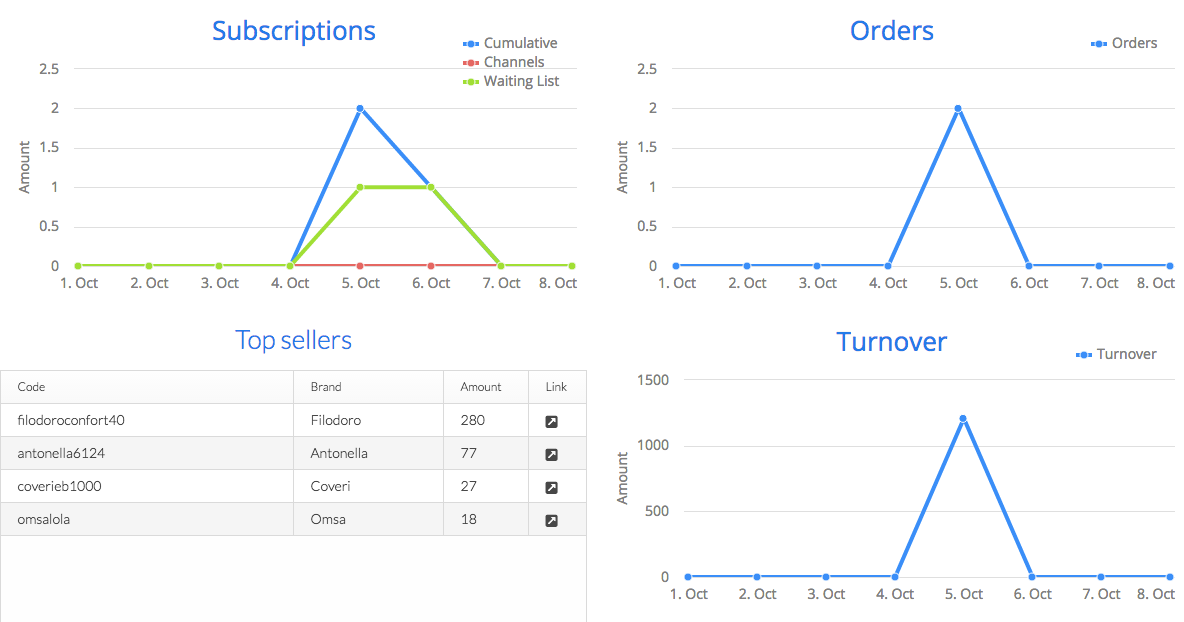 Subscription: the graph with the trend of subscritions
Orders: the chart with the trend in orders
Turnover: the graph with the trend of the turnover
Top Sellers: the table with the best-selling products
Filter: allows a filtered research. The parameters to be set are: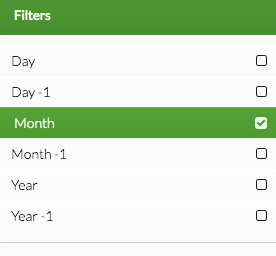 Day: the current day
Day -1: the previous day
Month: the current month
Month -1: the previous month
Year: the current year
Year -1: the previous year
New menu
The main menu items have been completely reorganized.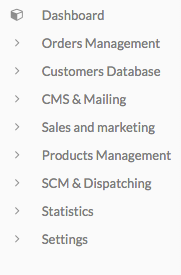 The correspondences between the Rewix Mint menu entries with the previous version are the following:
Previous Version
Item

Subitem
Current Version
Item

Subitem
Dashboard
Dashboard
Orders
➜
Orders
Orders Management
➜
Orders
Orders
➜
Return Reqs
Orders Management
➜
Return Reqs
Orders
➜
To Suppliers
SCM & Dispatching
➜
To Suppliers
UserBase
➜
Users
Customers Database
➜
Users
UserBase
➜
Channels
Sales and marketing
➜
Channels
UserBase
➜
Friends
Sales and marketing
➜
Friend get friend
Money-Off
➜
ECredit
Sales and marketing
➜
Ecredit *
Money-Off
➜
Vouchers
Sales and marketing
➜
Voucher *
CMS & Mailing
➜
Email
CMS & Mailing
➜
Email
CMS & Mailing
➜
CMS
CMS & Mailing
➜
CMS *
not available
CMS & Mailing
➜
CMS Type *
CMS & Mailing
➜
Newsletter
CMS & Mailing
➜
Newsletter
Shop
➜
Products
Products Management
➜
Products
Shop
➜
Temporary sales
Sales and marketing
➜
Temporary Sales
Logistics
➜
Lots
SCM & Dispatching
➜
Lots
Logistics
➜
Suppliers
SCM & Dispatching
➜
Suppliers
Logistics
➜
Warehouses
SCM & Dispatching
➜
Warehouses
Logistics
➜
Load/Unload
SCM & Dispatching
➜
Load/Unload
Logistics
➜
Multi-Logistics
Settings
➜
Logistics Users
Logistics
➜
Dispatching
SCM & Dispatching
➜
Shipping
Statistics
➜
General
Statistics
➜
General
Statistics
➜
Stock
Statistics
➜
Stock
Tools
➜
Batch Import
Products Management
➜
Batch Import
Tools
➜
Remote Suppliers
Products Management
➜
Remote Suppliers Import
Tools
➜
Intrastat
Settings
➜
General settings
Tools
➜
AD HOC Invoices
Settings
➜
General settings
Tools
➜
Print Invoices
Settings
➜
General settings
Settings
➜
Payment Gateway
Settings
➜
Payment Gateway
Settings
➜
Platforms
Settings
➜
Platform
Settings
➜
Sequence Groups
Settings
➜
Sequence Groups
Settings
➜
Countries
Settings
➜
Countries
Settings
➜
Carriers
SCM & Dispatching
➜
Carriers
Settings
➜
Currencies
Settings
➜
Currencies
Settings
➜
Size Tables
Settings
➜
Size Tables
Settings
➜
Tags
Settings
➜
Tag Editor
Settings
➜
Change super password
Settings
➜
General settings
not available
Settings
➜
Vat System Rules
Front-end
non disponibile
Logout
User profile popup menu
➜
Sign out
The fields marked with * require special permission, they may not be visible in the menu to all users